Add:Hardware technology industrial park
chengxin road 229 YongKang City, ZheJiang Province, China
TEL:0086-0579-87070746
FAX:0086-0579-87070736
Mobile:13175531880
Contact Person: Mr.Xu
Website:http://www.shsportmotor.com
Email:sales@shsportmotor.com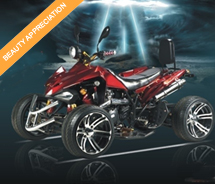 The European Union will come motorcycle new regulations
(Hits:)
Origin
Author
Add Time2015-07-29
fontSize:
T
|
T
Recently, the European parliament approved a rules and regulations, since 2016, the sales of new motorcycles and pollutant emissions from motor vehicles, will be reduced, and equipped with safer braking device, thus reducing the accidents. The regulations still need to get the consent of the 27 member states, its applicable scope includes electric tricycle and four-wheel small cars.
Wei, chairman of the European parliamentary party, said van der kamp, although mostly by the driver is responsible for the safety of the motorcycle, but it is also possible that by improving the technology to make motorcycle safer and more environmentally friendly. Motorcycle in eu countries as a proportion of the vehicle is only 2%, but the accident ratio is 16%. In the future, cylinder volume more than 125 cubic centimeters of motorcycle must be equipped with ABS wheel locking system.
As for light vehicles, small motorcycles or scooters, these vehicles should be equipped with at least the coupling brake system (that is, a single operation can at the same time to slow down the front and rear wheels). Clearly strengthen the regulations apply to two wheel motorcycle anti pollution standards, it can also be applied to southern Europe caused great pollution in the city most of the scooters.
, inspection and quarantine bureau reminded related enterprise: to focus on the European Union will in time introduced new laws and regulations of motorcycle dynamic, active research deploy countermeasures; Increasing scientific research strength, improve production technology, to master the core technology, to launch innovative products, brand competitiveness, export firmly grasp the initiative; Clear corporate social responsibility, to improve road traffic safety consciousness, consciously control product quality and safety, strengthen the cooperation with authoritative testing laboratory, and improve the frequency of inspection, the good final product quality.
keyworks:
The European Union will come motorcycle new regulations|UTILITY TRUCK (UTV)|DIRT BIKE|GO KART| ELECTRIC BICKCLE|Zhejiang Haohao Vehicle CO.,LTD.