Add:Hardware technology industrial park
chengxin road 229 YongKang City, ZheJiang Province, China
TEL:0086-0579-87070746
FAX:0086-0579-87070736
Mobile:13175531880
Contact Person: Mr.Xu
Website:http://www.shsportmotor.com
Email:sales@shsportmotor.com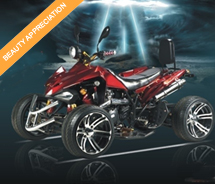 There is growing demand for casual motorcycle
(Hits:)
Origin
Author
Add Time2015-07-25
fontSize:
T
|
T
Although "retired" in the domestic market, China motorcycle sales has always been to maintain growth around the world. However, recent data show that since this year, the Chinese motorcycle suffered for many years for the first time sales have fallen: 1 - October this year, the industry production and sales fell by 11.44% and 11.86%; Among them, the two wheel motorcycle "injured" heaviest, off sales decreased 13%.
Once upon a time, full avenue running all kinds of motorcycle. Sunglasses, ride a bike on streets, is the most "pick up" moment at a time when many young people. Times have changed, with the popularity of cars, electric cars and cities began to "limit", "less" beeping "the roar of motorcycle heard, once well-known motorcycle brand also gradually disappeared in the horizon.
Investigate its reason, in addition to the global economic downturn, the China association of automobile manufacturers a motorcycle club secretary general li expresses: "the most important reason in the enterprise itself. Technology and marketing homogeneity, is China's motorcycle differentiation transformation."
keyworks:
There is growing demand for casual motorcycle|PARTS&ACCESSORIES|DIRT BIKE|GO KART|POCKET BIKE|Zhejiang Haohao Vehicle CO.,LTD.